We are halfway through session! Keep up with the bills FAN is supporting by viewing our

Bill Tracker

, which we update a few times each week.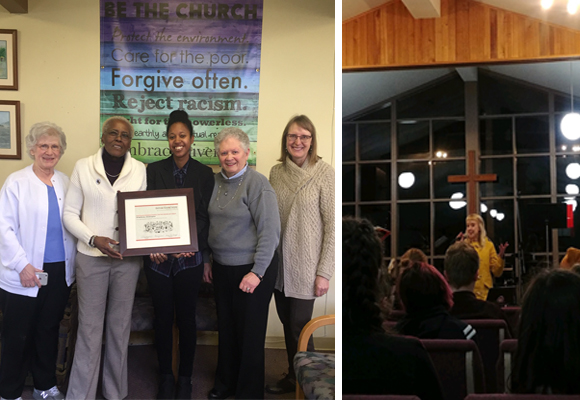 FAN celebrated the addition of another congregation to our Network of Advocating Faith Communities this weekend (left). Organizer Amber Dickson presented Eastgate Congregational UCC with their NAFC Certificate, received by Rev. Dr. Renee McCoy. ELCA Hunger Advocacy Fellow Sarah Vatne presented at the SW WA Synod youth gathering on how young adults can create change - through young adult service programs and through local and statewide advocacy (right).
---
This week, the House and Senate were on the floor every day debating, amending, and voting on bills. We celebrate the passing of the following bills from our Legislative Agenda out of their house of origin:

House
1041 Hansen - New Hope Act to remove certain criminal records
1072 Sells - Closing the Wage Theft Loophole
1087 Jinkins - Washington Health Security Trust for affordable, long-term healthcare
1219 Walen - Real Estate Excise Tax to fund affordable housing
1377 Walen - Religious Zoning Bill for faith communities building affordable housing
1406 Robinson - Sales Tax Bonding Bill to assist counties in building affordable housing
1453 Macri - Eviction Reform to increase eviction notification from 3 to14 days
1523 Cody - Public Option/Cascade Care to move us closer to single-payer healthcare
1587 Riccelli - Food Insecurity & Nutrition Incentives (FINI) for access to fresh produce
1603 Senn - Temporary Assistance for Needy Families (TANF) reform to increase access to financial resources
1713 Mosbrucker - Missing & Murdered Indigenous Persons Bill to improve law enforcement response to indigenous safety concerns
1732 Valdez - Hate Crimes Bill to improve the justice system response to hate crimes
1918 Santos - Community Preservation and Development Authority to preserve the Seattle Vocational Institute

Senate
5116 Carlyle - 100% Clean Electricity to make the electric grid free of fossil fuels by 2045
5135 Rolfes - Orca Emergency Response to prevent toxic pollution
5166 Hasegawa - Allowing Religious Accommodations for College Students
5181 Kuderer - Temporarily restricting firearm possession by persons recently held for severe mental health treatment
5205 Dhingra - Limiting firearm possession by persons with a history of violence
5258 Keiser - Preventing sexual assault in the workplace
5323 Das - Plastic Bag Ban to establish minimum state standards for plastic bag use
5339 Carlyle - Eliminating the Death Penalty
5433 C. Wilson - Expanding Prison Education Programming
5438 McCoy - Establishing an Office for H2A Agricultural Workers
5497 Wellman - Keep WA Working to support immigrants' role in the workplace
5600 Kuderer - Eviction Reform to protect tenant rights

Thank you for your faithful advocacy on these important bills!
---
Looking Ahead to Week Nine
This week will be a mix of activities: three days will be floor activity, then Thursday starts 2-3 weeks of committee hearings on bills from the opposite chamber.
Take Action for Justice!
Here are some of FAN's key bills that are still alive and need your support in getting onto the floor for a vote by the cutoff on Wednesday. Pick one or two that you are passionate about and ask your legislators to move them forward!

To contact your legislators, use the email formula firstname.lastname@leg.wa.gov, or use the Legislative Hotline: 1-800-562-6000 between 8 AM and 7 PM, Monday through Friday. To find out who your legislators are, click here.
House (contact your Representatives):
1282 - Decriminalizes Driving While License Suspended (DWLS-3) - Reeves
1783 - Establishes an office for equity in our state agencies - Gregerson
Senate (contact your Senator):
5076 - Restores voting rights for those out of prison but still in DOC custody - Kuderer
5274 - Establishes dental coverage for COFA Pacific Islander residents - Hasegawa
5288 - Eliminates Robbery 2 from the list of strikeable offenses - Darneille
5441 - Extends DOC housing vouchers from 3 to 6 months - Nguyen
5612 - Expands and updates our state's Holocaust education programs - Rivers
5822 - Creates a Pathway to Universal Health Coverage - Randall

As we move into budget conversations, we know our state needs investments in health care, affordable housing, and the Working Families Tax Credit, to name a few programs which would enable our communities to thrive. One of our coalition partners, Balance Our Tax Code, offers a few opportunities to address our upside-down tax code so that we can fund these vital programs: consider attending townhall meetings with legislators or writing a Letter to the Editor (LTE) in your local newspaper to speak about our upside-down tax code and advocate for policies like Closing the Capital Gains Loophole. We hope you will engage with these important tax reform conversations in your local area over the next few weeks!
---
Federal: SNAP Rule Change
FAN is still keeping up with the proposed SNAP Rule Change which would affect hundreds of thousands of people in the US. Have you submitted a comment against this proposal yet?

Recently, the Department of Agriculture (USDA) proposed a rule change to the Supplemental Nutrition Assistance Program (SNAP). Under current law, able-bodied adults without dependents are subject to the harsh time limit of only three months of assistance every three years if they do not work enough hours each week. However, the USDA can grant waivers in areas where unemployment is higher than the national average. Nearly every state has employed a waiver from the USDA in the past 20 years. This rule change would limit the ability to access these waivers, therefore limiting access to SNAP benefits for people who are unemployed or who do not meet a quota of hours of job training and/or work each week. Those who don't meet the required hours would lose their SNAP eligibility after three months, regardless of how hard they are trying to find more work, more hours, or job training. In Washington State, 70% of counties with high unemployment rates would lose their waivers under this change, which would take SNAP benefits away from 80,000 people in our state alone.

This proposed rule change works in opposition to Congress, who rejected these changes when they passed the 2018 Farm Bill. It threatens legitimate harm to the health and well-being of individuals who cannot afford to lose SNAP benefits. It hurts grocery retailers, farmers, and agricultural producers by reducing the amount of SNAP dollars available to spur local economic activity.

We ask you to submit a public comment that shows your opposition to this proposed rule change. FAN is part of the ELCA's State Public Policy Office network, and we offer their link to submit a comment. Please personalize the included message by adding a few sentences of why this is important to you or anything else you might like to include. The public comments are only counted by the federal agencies if they are unique from one another. While the language included in the link's suggested comment is specifically Christian and Lutheran, you can change the language if it does not apply to you, or simply post your comment directly to the federal register. The comment period closes on April 2, 2019.
---
2020 Census jobs are available! See the King County flier, or visit the website to find more information about opportunities in your county.

Y/Our Story: A Different Kind of Book Club March 12, 5:30-7:00 PM Yakima Central Library, 102 N 3rd St, Yakima

Beacon Hill Meaningful Movies: Human Flow March 12, 6:30-8:30 PM El Centro Centilia, 1660 Roberto Maestas Festival Street, Seattle

Women in Black Vigil March 13, 12-1 PM Seattle Justice Center, 600 5th Ave, Seattle

Seeking Connections Across Generations March 14-17 Meydenbauer Center, 11100 NE 6th St, Bellevue

Showing up for Social Justice in the Age of Trump March 14, 5:30-7 PM Peace & Justice Action League of Spokane, 35 W Main St, Spokane

Meaningful Movies on the Eastside: Rick Steves' The Story of Facism in Europe March 19, 7-9 PM St. Margaret's Episcopal Church, 4228 Factoria Blvd SE, Bellevue

World Water Day Movie Night: Return of the River March 21, 7-9 PM Holy Rosary Parish, 630 7th Ave N, Edmonds

Abolish the Death Penalty Lobby Day March 22, 10:30 AM - 5 PM Olympia State Capitol Building, 415 Sid Snyder Ave SW, Olympia

War kNOw More: Our Militarism Costs U.S. March 22, 6:30-8:30 PM Unitarian Universalist Church of Spokane, 4340 W Fort George Wright Dr, Spokane

Jewish Community Lobby Day March 26, 8:30 AM - 3:30 PM Temple Beth Hatfiloh, 201 8th Ave SE, Olympia

Church Council of Greater Seattle Annual Assembly March 28, 5:30-8 PM Seattle First Baptist Church, 1111 Harvard Ave, Seattle

FIRE Interfaith Dinner Dialogue March 31, 5-8 PM IMAN Center, 515 State Street S, Kirkland

The Justice Leadership Jubilee for the United Church of Christ is a program to help people grow in their justice advocacy skills and focus. Jubilee is an intentional ten-month commitment for adults who want to develop their faith and learn systemic change skills with a community of their peers. They are currently looking for Fall 2019 Jubilee participants which involves community work, spiritual reflection and sojourning retreats, learning and skill building, and church engagement. Could this be you? They welcome applications from all denominations.
Website: justiceleadership.org and learn more under the Jubilee drop down
Facebook: justiceleadershipjubilee
Email: justiceleadershipjubilee@gmail.com
Call: Christine Hanson 509-679-7430
---
Find other events and opportunities on our web calendar.
Please send your events for posting to fan@fanwa.org. We especially welcome your events outside the Puget Sound area!

Help FAN the Flames for justice year-round; support FAN with a donation!