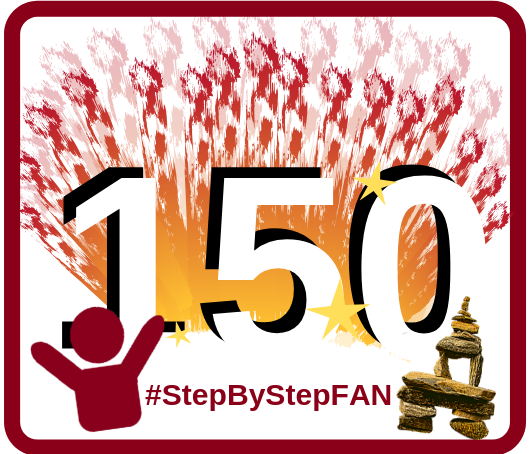 FAN celebrates our 8th birthday as an organization next week, formed June 11, 2011 with a vote to merge the Washington Association of Churches and Lutheran Public Policy Office to become something new and interfaith! We thank our founders who had the vision and were present at that historic vote! We are delighted to celebrate this birthday by reaching a MILESTONE—four new congregations voted this week to join our Network of Advocating Faith Communities—bringing us to 150! Welcome Christ the Servant Lutheran Church (Bellingham), St. Anne's Episcopal Church (Washougal), Temple Beth Or (Everett), and Westside Unitarian Universalist Congregation (Seattle)! Raise a glass, have some birthday cake, and join us to build the momentum for justice and equity across Washington State!
---
Our annual Summit season was energetically launched in the Tri-Cities this weekend with 35 advocates hosted by Shalom United Church of Christ, Richland, sharing vital local organizing efforts and strategizing together to impact policies statewide. We celebrated the more than 40 bills that were successful in the state legislative session, had good conversation about how those bills get implemented, and wrote thank you notes to area legislators. We shifted our sights to important work that needs to be done in Congress, including an update on climate change legislation (HR763) by Bruce Rathbone, immigration (DACA vote this week), farmworker/H2A legislation, the Violence Against Women Act, Missing and Murdered Indigenous Women, and more.

Marsha Stipe shared the work of the Tri-Cities Immigrant Coalition (connect by email at tricitiesimmigrantcoalition@gmail.com or on Facebook at TCImmigrantCoalition) and Donna Kary spoke about the Rapid Response accompaniment network and hotline (1-844-724-3737). They have been showing a short film So Close to America by Peter Carrs, based on Tri-Cities immigrant workers experience.

Danielle Surkatty represented the Yakima Immigrant Response Network regarding their work as witnesses to ICE detention flights arriving each week on Sunday afternoons and Tuesday mornings, where they stand vigil with a supportive sign as detainees are loaded off the planes in shackles to be transported to the Northwest Detention Center in Tacoma. Rev. Rick Matters shared about the Washington Poor People's Campaign: A National Call for Moral Revival in the Tri-Cities working on implicit bias trainings and networking. Sabiha Khan from the Islamic Center of the Tri-Cities spoke about their work against Islamophobia and collaborations in the community, including vigils after New Zealand and iftars during Ramadan.

Attendees ended the afternoon in strategy groups, raising recommendations that will be combined with other summit voices across the state. Most importantly, people met new neighbors or reconnected with each other and FAN to build our momentum for justice.

You can be part of this! Three more regional summits are coming up—in the Vancouver area this weekend 6/9, Puget Sound 6/23, and Spokane 6/30. Please download and share the flyers widely in your faith communities and networks! Make a personal invitation to someone to come with you. This season celebrates the power of people of faith and conscience meeting across faith traditions, digging in locally to make a difference for justice and equity in their communities, and sharing that energy in small groups, geographical regions, and through FAN statewide to make a tangible difference. We are looking forward to gathering this momentum with YOU! Download the flyers and RSVP for these free Summits in your area.
---
Getting Ready for Census 2020
FAN has posters available from our partners at Washington Nonprofits for you to post in your faith communities. We want to make sure everyone is counted so that critical funding and elected representation is accurately reflected across our state. We'll have posters available at our Summits, or contact us about getting some sent to you.
Every 10 years, the Constitution requires that there be a full count of the population residing in this country. We are only one year away from the 2020 census, which will begin in Spring of next year. An accurate census count will bring important economic and political benefits to our communities and state. More than $800 Billion in federal funding, as well as fair, proportional voting representation and political power are at stake. Federal programs like SNAP, WIC, and Medicaid are vital to community health. States receive federal dollars to administer these programs based on census results.

People of color, children, renters, folks experiencing homelessness, people with disabilities, and rural communities have long been undercounted in the census. Communities more likely to be undercounted are often already facing barriers to health like poverty and unstable housing. We want to be sure these "hard to count" communities are counted in the 2020 census.

Though we are a year out from the census count, we are engaged with the statewide coalition to start preparation and educational outreach. Check out the Census 2020 Toolkit on our website for factsheets and faith-based resources to learn more about the importance of an accurate count. Asian Counseling and Referral Service (ACRS) in Seattle is hosting a census outreach and voter engagement training on June 8 - see their website for more details on how you can get involved, particularly if you are from or work with Asian American and Pacific Islander communities or other communities of color. Keep an eye on FAN's Facebook and Twitter pages, as well as the hashtag #CountMeIn on both platforms to follow along with and share social media actions.
---
Protect Housing for Immigrant Families
The Department of Housing and Urban Development (HUD) has proposed new rules to threaten housing for families of mixed immigration status. Under this new rule, families where some members are undocumented will be forced to choose between breaking up in order to receive housing assistance and not receiving assistance at all. The Washington Low Income Housing Alliance notes that 55,000 children could face eviction if this rule goes into effect, and they have a portal where you can submit a comment on this horrendous rule. Just as #FamiliesBelongTogether and should not be separated at our borders, they should remain together within our borders. Submit a comment today, and tell HUD that we need to increase housing resources, not limit them!
---
Shaping a Green New Deal: An Intergenerational Discussion June 5, 7-9 PM Keystone Congregational United Church of Christ, 5019 Keystone Pl N, Seattle

Prayer for the Earth: Tibetan Sand Mandala Exhibit June 6-14 Various locations

Eastside for All: A Community Presentation and Reflection June 6, 6:30-8:30 PM Holy Spirit Lutheran Church, 10021 NE 124th St, Kirkland

Jewish Coalition for Immigrant Justice NW June 6, 7-9 PM Bet Alef Meditative Synagogue, 1111 Harvard Ave, Seattle

Transitioning to an Ecological Civilization June 7, 7-9 PM Northlake Unitarian Universalist Church, 308 4th Ave S, Kirkland

2020 Census Outreach and Voter Engagement Training June 8, 10 AM - 5:30 PM Asian Counseling and Referral Service, 3639 Martin Luther King Jr. Way S, Seattle

Wear Orange Rally and I-90 Bridge Walk to End Gun Violence June 9, 10 AM - 12 PM Sam Smith Park, 1400 Martin Luther King Jr. Way S, Seattle

Vancouver Spring Summit June 9, 2-4 PM Unitarian Universalist Church of Vancouver, 4505 E 18th St, Vancouver

Leaves of Remembrance Dedication June 11, 3-4 PM Columbia City PCC, 3610 Edmunds St, Seattle

Film: Free Trip to Egypt June 12 Various locations

Community Conversation about Healthcare Equity June 13, 6-7:30 PM Kent Commons Community Center, 525 4th Ave N, Kent
---
Find other events and opportunities on our web calendar.
Please send your events for posting to fan@fanwa.org. We especially welcome your events outside the Puget Sound area!

Help FAN the Flames for justice year-round; support FAN with a donation!