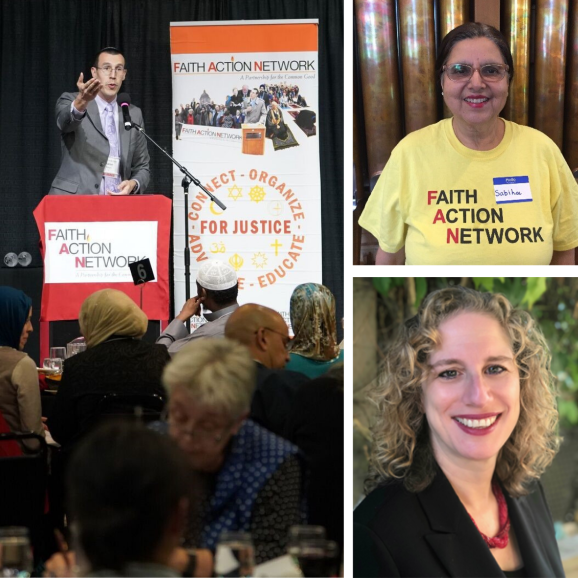 ---
Holding both gratitude and sadness, FAN bids farewell this week to our wonderful Governing Board Co-Chair Rabbi Aaron Meyer, who is moving from Temple De Hirsch Sinai to become Senior Rabbi at Temple Emanuel of South Hills in Pittsburgh. Rabbi Aaron has served on FAN's board since 2016, joining Rev. Carol Jensen as Co-Chair for the past two years. He brought organizational leadership, thoughtful reflection, disarming humor, and focused commitment to justice. He warmly invited people into the daily work of FAN as well as calling them to support our financial sustainability. He met with the Governor, state and local officials on behalf of FAN and his beloved community. We will miss Aaron and wish him and spouse Emily and their young children a beautiful new beginning in Pittsburgh!

At the same time, we welcome with enthusiasm two new members to the FAN Governing Board! This month, Sabiha Khan and Rabbi Ruth Zlotnick have joined the board and bring incredible expertise and commitment to FAN. Sabiha is a leader with the Islamic Center of the Tri-Cities, the first mosque that joined FAN in 2016, and has been a faithful attendee at FAN meetings and helps spread news and works of justice in her community. Sabiha teaches social studies at Kamiakin High School in Kennewick and takes students on overseas trips, most recently to Japan. Originally from Pakistan, she is an activist on many issues, and already wears proudly the FAN t-shirts that the Tri-Cities group made to be visible in their community!

Rabbi Ruth is Senior Rabbi of Temple Beth Am in Seattle. She is beloved by her community for her gifts of knowledge, leadership, and counsel; inspirational worship services; and creative programming. In 2014 Temple Beth Am received FAN's Advocating Faith Community Award. In 2016, Rabbi Ruth was the keynote speaker at FAN's Annual Dinner and literally brought us to our feet and to tears as she encouraged us for the justice work ahead. She also spoke in 2017 at a FAN press conference during Interfaith Advocacy Day in Olympia for legislation to prevent a Muslim registry. Rabbi Ruth has hosted and serves on FAN's Interfaith Leadership Council, and we are thrilled to welcome her to our board!
---
National: The Trump Administration is seeking to lower the federal poverty line, affecting millions of people who use services like SNAP, WIC, Medicare/Medicaid, and school lunch programs. At a time when we need to increase access to these life-saving programs, it is morally reprehensible to further limit eligibility. As with other issues of this nature, you have the opportunity to speak up by submitting a public comment this week, by June 21. Learn more at the Budget & Policy Center.

International: In China, the Uyghur Muslim community is facing horrific human rights violations as over one million people are being heavily monitored, sent to reeducation camps, tortured, and killed. MAPS-AMEN encourages advocates to sign onto a letter to your federal elected officials asking them to co-sponsor the Uyghur Human Rights Policy Act, calling out these atrocious policies in China. Sign the letter here, and learn more at the Uyghur Human Rights Project and Uyghur American Association.
---
Puget Sound and Spokane Summits
Now is the time for your voice and concerns to be heard - if you have not joined us for a Summit, now is your chance! Summits are an opportunity to meet with interfaith neighbors on issues that matter most to you. We will share updates from the legislative session; local, state, and federal advocacy efforts; and strategize in issue groups. We had lively conversation in the Tri-Cities and Vancouver.

The Puget Sound Summit will be held at Saint Mark's Episcopal Church in Seattle on June 23 from 2-4 PM, and the Spokane Summit will be held at the Cathedral of St. John the Evangelist in Spokane on June 30 from 3:30-5:30 PM. Please RSVP by clicking one of the links above!

Following the Puget Sound Summit at 4 PM will be a community discussion of the film Emanuel, documenting the aftermath of the shooting of the Charleston Nine at Mother Emmanuel in 2015. This movie is showing only in theaters June 17 and 19, so grab a group to go see it this week! Thank you to First AME Church, Immanuel Lutheran Church, Temple De Hirsch Sinai, and MAPS-AMEN for hosting. For more information and to find a film near you, visit emanuelmovie.com.
---
Emanuel: The Untold Story of the Victims and Survivors of the Charleston Church Shooting June 17 and 19 Various locations

Lunch & Learn: Education in Prisons June 19, 12-1:30 PM Bethaday Community Learning Space, 605 SW 108th St, Seattle

73rd Annual Lummi Nation Stommish Water Festival June 21-23 Lummi Stommish Grounds, 2295 Lummi View Dr, Bellingham

Towards a Right Relationship with Native Peoples (Blanket Exercise) June 22, 1-3 PM Peace Lutheran Church, 2106 S Cushman Ave, Tacoma

Faith Action Climate Team Worship Service June 23, 9:30-11 AM Seattle Mennonite Church, 3120 NE 125th St, Seattle

Puget Sound Spring Summit June 23, 2-4 PM Saint Mark's Episcopal Cathedral, 1245 10th Ave E, Seattle

Emanuel - Community Call to Action June 23, 4-6 PM Saint Mark's Episcopal Cathedral, 1245 10th Ave E, Seattle This discussion will follow the Spring Summit.

Eastside Tiny House Village Meeting June 23, 6-8 PM Holy Spirit Lutheran Church, 10021 NE 124th St, Kirkland

Fierce Vulnerability: Direct Action that Heals and Transforms June 28-July 1 Seabeck Conference Center, 13395 Lagoon Dr NW, Seabeck

Film Screening: Paris to Pittsburg June 28, 7-9 PM Prospect Congregational United Church of Christ, 1919 E Prospect St, Seattle

Spokane Spring Summit June 30, 3:30-5:30 PM Cathedral of St. John the Evangelist, 127 E 12th Ave, Spokane
---
Find other events and opportunities on our web calendar.
Please send your events for posting to fan@fanwa.org. We especially welcome your events outside the Puget Sound area!

Help FAN the Flames for justice year-round; support FAN with a donation!