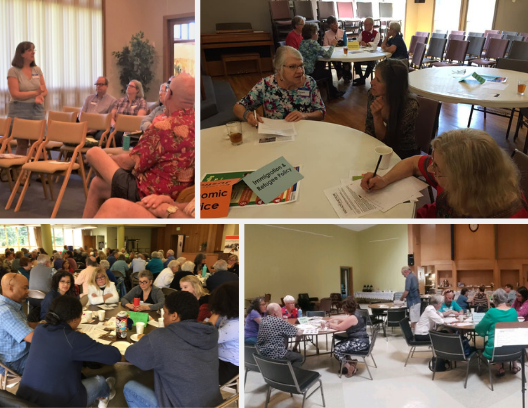 Thanks to all who joined us for our Spring Summits! We had robust conversations in Tri-Cities (top left), Vancouver (top right), Puget Sound (bottom left), and Spokane (bottom right). We hope you were able to make good connections as we work in coalition to approach the diverse issues raised.
---
Thank you to all who made the Summits come to life by showing up to help build connections and share strategies on how to work together in the year ahead on the critical issues of our time. With a great group gathered in Spokane this past weekend, we have now completed FAN Spring Summits that took us to four regions of our state. Thank you to all the hosting faith communities and everyone who took time to join us on sunny June Sundays. We're compiling the notes and suggestions of the four summits to see what themes emerge and policy ideas are common among regions, and will continue to work with the more than 25 coalitions we're part of as well as our Program Committee and Governing Board to determine a state legislative agenda for 2020.

During this interim time between legislative sessions, we'll keep you informed of opportunities to meet with your elected officials in their home districts, attend candidate forums in your area, take action on legislation moving through Congress, and share opportunities for educational forums or public actions. Thank you for your engagement and advocacy year-round that makes FAN a partnership for the common good and a movement for justice!
---
Success! With the Supreme Court decision last week that the citizenship question would not be included in the census, we are moving forward in coalition to make sure everyone is counted to ensure equitable representation and allocation of resources to communities. Faith communities have an important role to play. We have census posters you can post in your facilities. We have also posted a faith toolkit to help your planning on our website. Please contact us if you would like to be part of this effort.
---
In light of the painful truth that our government is holding immigrants and refugees in horrendous conditions, separating children from their families and leaving them to fend for themselves, we commit to find continuing ways to respond. As people of faith and conscience, we decry the use of deplorable camps to hold and abuse our neighbors who come to our borders seeking a better life for themselves and their families. Below we have compiled a few actions you can take to protect and uplift our neighbors and demand that the government remedy these decisions. See also this great list of resources from the ELCA Advocacy Blog and Bend the Arc Jewish Action.

Local: The Yakima Immigrant Response Network monitors weekly ICE air flights at the Yakima Air Terminal. They meet on Tuesday mornings and Sunday afternoons to bear witness to these flights. Anyone interested in joining the effort can be added to the contact list through YakimaReponseNetwork@gmail.com.

Nationwide: On Friday, July 12, there will be nation-wide and some international protests against the inhumane treatment of immigrants and refugees in concentration camps in the United States. There will be vigils throughout Washington State. Find a vigil near you at lightsforliberty.org. Key events are planned in El Paso, Texas, where migrants are being housed in outdoor conditions under a bridge with no running water for months at a time; Homestead, FL, at a migrant child detention facility that has caused mass abuse and neglect; in San Diego, near the point of entry site from Tijuana; in New York City, at Foley Square, where hundreds of migrants are processed through detention a day; and in Washington, DC, in Lafayette Park, to demand action from Congress. Legislators, activists, organizers, and members of impacted communities will speak prior to the candlelight vigil.

Federal: We have until July 9 to submit a comment against the Department of Housing and Urban Development (HUD)'s proposed rule to threaten housing for families of mixed immigration status. Under this new rule, families in which some members are undocumented will be forced to choose between breaking up in order to receive housing assistance and not receiving assistance at all. The Washington Low Income Housing Alliance notes that 55,000 children in Washington could face eviction if this rule goes into effect, and they have a portal where you can submit a comment on this horrendous rule. Just as #FamiliesBelongTogether and should not be separated at our borders, they should remain together within our borders. Submit a comment today and tell HUD that we need to increase housing resources, not limit them! Remember that comments need to be unique statements in order to be counted.

Federal: For those of you who weren't able to see the Northwest Immigrant Rights Project's Facebook live event regarding the Supreme Court decision to take up the government's appeals for three different DACA cases, the recordings are now posted on NWIRP's facebook pages. There were sessions in both English and Spanish explaining the decision by the Supreme Court:
English link: https://www.facebook.com/NWIRP/videos/1306260492854899/
Spanish link: https://www.facebook.com/NWIRP/videos/2340862679522301/
---
Walk with Fostering Interfaith Relationships on the Eastside (FIRE) in the Kirkland 4th of July Parade and BBQ Lunch July 4, 11 AM - 4 PM Heritage Park, 111 Waverly Way, Kirkland

Drag Gospel Service and Bingo Brunch July 7, 10 AM - 12 PM Wayside United Church of Christ, 2000 SW Dash Point Rd, Federal Way

Seattle First Baptist Church 150th Anniversary Homecoming Celebration July 8, 11 AM - 3 PM Seattle First Baptist Church, 1111 Harvard Ave, Seattle

King County Indigent Remains Burial July 10, 1-2:30 PM Mt. Olivet Cemetery, 100 Blaine Ave NE, Renton

Juvenile Justice Conversations July 11 Excelsior Wellness, 3754 W Indian Trail Rd, Spokane Featuring WA-PCJJ Chair Gordon McHenry Jr., Sen. Darneille, & Rep. Frame.

Lights for Liberty: A Vigil to End Human Concentration Camps July 12 Statewide

Coffee & Conversation with Your Muslim Neighbors July 13, 12:30-1:30 PM Islamic Center of Eastside, 14230 NE 21st St, Bellevue

Federal Way City Council Candidate Forum July 16, 6-8 PM Calvary Lutheran Church, 2415 S 320th St, Federal Way

Lunch & Learn: Restorative Justice Practices July 17, 12-1:30 PM Bethaday Community Learning Space, 605 SW 108th St, Seattle
---
Find other events and opportunities on our web calendar.
Please send your events for posting to fan@fanwa.org. We especially welcome your events outside the Puget Sound area!

Help FAN the Flames for justice year-round; support FAN with a donation!