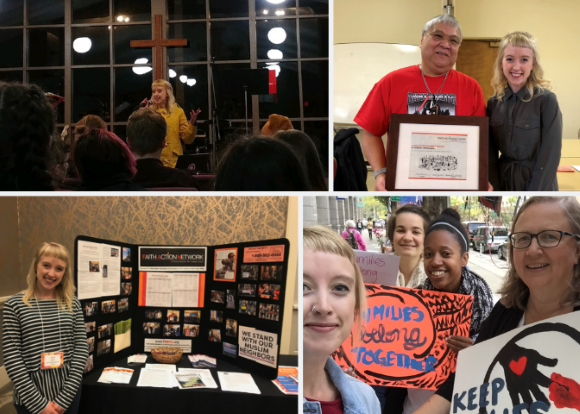 After a busy and fruitful year at FAN, we will be saying goodbye to Sarah Vatne on July 31. Pictured above are some of the many ways she has supported our work through the ELCA's Hunger Advocacy Fellows program - by leading workshops, presenting certificates to our new faith community partners, staffing a table at events, and standing in solidarity with our neighbors.
---
At this time of year, we often say goodbye to staff members as they complete their year-long programs. Sarah Vatne has spent the past year working at FAN as an ELCA Hunger Advocacy Fellow. Our work has reached farther and Washington State has benefited because of her expertise and passion for justice. Check out Sarah and her cohort's
video
as well as her reflection below on her time at FAN as she prepares to study at Gonzaga University School of Law in August:
"Throughout this year with FAN, I've attended rallies and marches, met with elected officials, led advocacy and educational events, spoken at youth gatherings, and worked with faith communities from a multitude of different backgrounds. I've really loved getting to know the other fellows in this program and talk about what brought us to this work. I've appreciated having the opportunity to advocate for bills that I really care about or that I think would be good for the people in our state. I've gotten to see real change take place in our state along the way.

It's so important for faith communities and people of faith to get involved in policy and advocacy. I believe justice work is part of our religious calling – that we are called to act with justice; to love and care for our neighbors around us. It's not enough to say good words each Sunday, we need to actually get out and be part of the good fight, to advocate for a more just and sustainable world. It is so important for the church to continue to invest in young leaders. We need to see our faith communities having a voice for change in our world, and I truly believe that will come from leadership from youth and young adults. Thank you all!"
| | | | |
| --- | --- | --- | --- |
| | | | We also welcome Kevin Holtz who is joining FAN as a social work practicum intern through the Masters of Social Work program at the University of Washington. Kevin grew up primarily in Wisconsin, graduated from Judson University near Chicago with a degree in Christian Theology, and later moved to the Seattle area. In Seattle, he has worked at Community Psychiatric Clinic for over two years, overseeing their housing programs for people experiencing homelessness. Kevin is excited to work to end oppression with a vision of a just and free world. |
---
Take Action for Your Neighbors
In the midst of so many issues to follow this season, we want to highlight three that you can act on today. As people of faith and conscience, we are called to value and support our neighbors: those experiencing poverty, facing food insecurity, and fleeing violence and devastation in their home countries. Take action now!

Statewide: Temporary Assistance for Needy Families (TANF) changes were signed into law this past session which expand services as of July 28. One is the elimination of permanent disqualification for repeated sanctions, and the second is a time-limit extension for families experiencing homelessness. Please share the flyer with this information and help get the word out to eligible families!

Federal: SNAP Rule Changes - The Trump administration is working to end SNAP benefits for three million people by restricting eligibility for people earning over 130% of the federal poverty level and preventing states from automatically enrolling residents who receive other benefits. As with other proposed rule changes, we have 60 days to provide comments against this proposal, and each comment must be unique. You can submit a comment at regulations.gov, indicating how this policy would cause more hunger in our communities, especially for working families, children, and senior citizens.

Federal: Cutting refugee admittance in 2020 - The Trump Administration is considering slashing refugee admissions to zero in 2020. The National Council of Churches and Church World Service have issued a letter that faith leaders and organizations can sign onto calling for the government to reject this proposal and accept 95,000 refugees instead. Please sign if you are a faith leader or members of a faith organization, and share with others. Signatures are due by August 12.

Immigration: For ways to stay engaged with the emerging needs of immigrant neighbors, see our list of resources at fanwa.org.
---
As we move through summer, FAN will be hosting Interim Meetings to engage our elected officials.
Interim meetings are a great opportunity to meet your elected officials in person while the state legislature or Congress are not in session. Groups meet by district and discuss the issues that matter to them. Faith communities can invite their representatives to see their housing, shelter, food bank, or community garden in action. Contact

fan@fanwa.org

if you would like to set up an interim meeting this summer or fall. Thank you for your ongoing support to ensure that the work of justice is shared with our elected officials.
---
Redmond City Council and Mayoral Candidates Forum

July 25, 6:30-8:30 PM

Muslim Association of Puget Sound, 17550 NE 67th Ct, Redmond





SHIFT Young Adult Conference 2019: Level Up

July 26-28 New Beginnings Christian Fellowship, 19300 108th Ave SE, Kent



50th Bon Odori Japanese Folk Dance Festival

July 27, 4-9:30 PM White River Buddhist Temple, 3625 Auburn Way N, Auburn. $10 suggested donation



A Film Screening of "Sugihara Survivors" and "Persona Non Grata"

July 29, 6-10:30 PM Broadway Performance Hall, 1625 Broadway, Seattle



Beyond False Solutions: Climate Resiliency in District 6

July 31, 7-9:30 PM Verity Credit Union Ballard, 5711 24th Ave NW, Seattle AND August 3, 12-2:30 PM Green Lake Library, 7364 E Green Lake Dr N, Seattle



Rally Against ICE: Fight for Thy Neighbor

August 1, 6-8 PM ICE Headquarters, 1000 2nd Ave, Seattle



Celebrate the Birthdays of Social Security and Medicare

August 3, 12:30-2:00 PM Martin Luther King Jr. Memorial Park, 2200 Martin Luther King Jr. Way S, Seattle



A World BEYOND War: Potluck and Strategy Session

August 4, 5:30-8:30 PM University Friends Meeting, 4001 9th Ave NE, Seattle



From Hiroshima to Hope

August 6, 6-8:30 PM Green Lake Public Theater at the Bathhouse, 7312 W Green Lake Dr N, Seattle



Coffee and Conversation with Your Muslim Neighbors

August 10, 12:30-1:30 PM Islamic Center of Eastside, 14230 NE 21st St, Bellevue



Idris Mosque Annual BBQ

August 11, 2-5 PM Idris Mosque, 1420 NE Northgate Way, Seattle
---
Find other events and opportunities on our

web calendar

.
Please send your events for posting to

fan@fanwa.org

. We especially welcome your events outside the Puget Sound area!
Help FAN the Flames for justice year-round; support FAN with a donation!