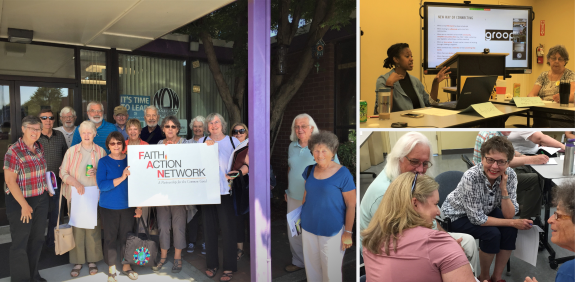 Twenty FAN liaisons joined us for a great training on August 15. We got to know one another better, strategized on getting our communities further involved in justice work, and planned for our Fall Cluster Meetings. We have one more liaison training happening next Thursday August 22 - contact FAN if you are the liaison for your faith community and haven't RSVP'd. If your faith community has not yet become part of our network, see what's involved at http://fanwa.org/our-network/.
---
Save the Date for the Annual Dinner!
We are thrilled to announce our Annual Dinner is set for Sunday, November 10, with doors opening at 4:30 PM at the Renton Pavilion. We hope you'll save the date, with invitations and more details coming in September.

Meanwhile, we welcome your organization as sponsors. Our wonderful supporter, Rick Steves, has promised to match new and small business sponsors up to $30,000! Do you own a business or frequent one that supports social justice? Let us know! Contact Elise.
---
Public Charge Rule Change
Once again, the Trump Administration continues their effort to build on the long-established divisions of race and class in our country. The Public Charge rule change, which will limit access to basic assistance programs, including SNAP, to immigrants seeking green cards or temporary visas, will become effective and implemented on October 15 unless it can be stopped or delayed. A group of state Attorneys General, including our own, are leading a legal challenge to this rule change, and there is also a Congressional Funding Prohibition bill (HR 3222) with a Senate bill to be introduced by Sen. Hirono (HI) the first week of September that hopes to stop this horrendous policy. Be sure your members of Congress are signed on to these bills.

This rule change decision comes after strong opposition from a well-organized national effort which FAN was part of with over 216,000 individual comments opposing the rule change. The national effort by Protecting Immigrant Families is the best source of information regarding the rule change as things progress.

Our immigrant neighbors are already dealing with enough fear and harassment, and this rule change will ensure that they are forced to make the difficult decision of whether to avoid deportation or to provide food, housing, and medical care to their families at risk to their safety. This administration's effort strikes at the core of our nation's values regarding the immigrant community, which except for our First Nations peoples and descendants of those stolen and enslaved from Africa, is all of us. These values are best known in the poem written by Emma Lazarus - the most famous part of which is inscribed on the Statue of Liberty in New York harbor.

Please continue to make your voice heard for our immigrant neighbors. Our partners at Northwest Harvest provide a few ways you can help:
Let's Talk About Public Charge

explains the final rule, who is impacted, and how it works.
Share this

fact sheet

with immigrant neighbors to figure out whether the public charge rule applies to their situation.

Respond to the rule change

with an analysis of how this will impact immigrant communities, to be used as part of a lawsuit to block implementation of the rule.

Write or call your member of Congress to ask them to sign onto HR 3222 and the corresponding Senate bill to block funding for implementation. Reps. Adam Smith, Pramila Jayapal, and Rick Larsen are the only three Congressmembers from Washington to sign-on so far.

Check out

FAN's

and

Northwest Harvest's

immigration toolkits for more ideas and flyers to share.
#StopTheRaids

In response to the ICE raids of last week where 680 people were taken and their children and families came home to find them missing after the first day of school, Washington Immigrant Solidarity Network (WAISN) issued a call for advocates to post a Protocol of Response to ICE Worksite Audits & Raids flyer (English/Spanish) in their workplaces. They are also encouraging workplaces to create a plan of response in case of audit or raid - reach out to WAISN if you need help with that process.
---
Interim Meetings
As we move into the fall, FAN will be hosting Interim Meetings to engage our elected officials. Interim meetings are a great opportunity to meet your legislators in person while the state legislature or Congress are not in session. Groups meet by district and discuss the issues that matter to them. Faith communities can invite their representatives to see their housing, shelter, food bank, or community garden in action. Contact fan@fanwa.org if you would like to set up an interim meeting this summer or fall. Thank you for your ongoing support to ensure that the work of justice is shared with our elected officials.
August Recess Toolkit
The Interfaith Immigration Coalition has created a toolkit to help you stay connected with your Congressmembers during the August recess. Many members of Congress are in their home districts at this time, so you should take advantage of the opportunity to meet with them and share the issues that matter most to you!
Cluster Meetings
Cluster season is nearly upon us! Each fall, FAN gathers advocates in local clusters to talk about issues in their communities and build relationships so neighbors can be resources to one another during the year. These meetings are open to any individual advocates, members of our Network of Advocating Faith Communities, liaisons, faith leaders, and people new to FAN who would like to get more involved.
We previously met in 22 cluster groups throughout the state, but this year we are hoping to combine a few of our smaller groups into larger ones while providing breakout sessions so that small groups can still meet by cluster. Be on the lookout in the next few weeks for invitations to a cluster near you!
---
The Wisdom to Survive: Climate Change, Capitalism & Community August 16, 6:30-8:30 PM Prospect Congregational United Church of Christ, 1919 E Prospect St, Seattle

National "No Vote on NAFTA 2.0 Until It's Fixed" Call-in Day August 20 Sponsored by the Washington Fair Trade Coalition

A Grassroots Perspective of Restorative Justice Practices August 21, 12-1:30 PM Bethaday Community Learning Space, 605 SW 108th St, Seattle

2019 Gathering at the Falls Powwow August 23 Riverfront Park, 507 N Howard St, Spokane

Cultures United Festival August 24 South End Recreational Area, 6002 S Adams St, Tacoma

Dance for Humanity! August 24, 7-11 PM Veterans of Foreign Wars Hall, 1836 72nd Ave SE, Mercer Island

Final Public Hearing on Tacoma Liquefied Natural Gas (LNG) August 27, 2-10 PM Rialto Theater, 310 S 9th St, Tacoma

Voting: How Do We Decide? September 5, 7-8:30 PM Keystone Congregational Church, 5019 Keystone Place N, Seattle

Seattle First Baptist 150th Anniversary Homecoming Celebration September 8, 11 AM Seattle First Baptist Church, 1111 Harvard Ave, Seattle
---
Find other events and opportunities on our

web calendar

.
Please send your events for posting to

fan@fanwa.org

. We especially welcome your events outside the Puget Sound area!
Help FAN the Flames for justice year-round; support FAN with a donation!