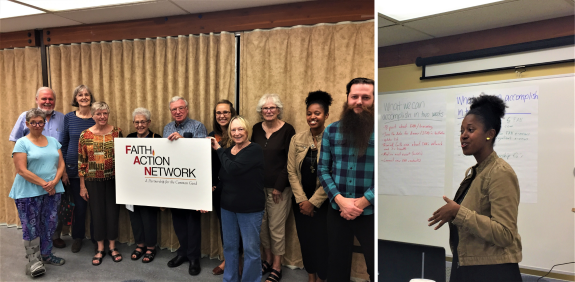 More FAN faith community liaisons met this week, in person and by web conference, to learn from each other about making connections to advocacy in their faith communities. Stay tuned for upcoming Cluster Gatherings in your area! The first one will be September 15 in the Vancouver area. In small groups and large, let's build relationships for social justice work!
---
Training on Immigration Responses
Many of you are already responding with compassion and care for your immigrant neighbors. We are always looking for additional resources to share with our statewide network to maximize the role faith communities can play in response to workplace raids, detentions, and deportations.

With El Centro de la Raza and the Anti-Defamation League, FAN is hosting a Sensitive Location Webinar on Thursday, September 5, at noon. Spend your lunchtime with us as we talk about how places of worship are sensitive locations and can protect immigrants. Click here to register. Instructions will be shared for you to join via Zoom web conferencing once you register.

We know in Yakima, faith communities have been engaged with the Yakima Immigrant Response Network in witnessing ICE flights and transportation to the Northwest Detention Center. They are hosting an ICE Raid Verifier Training next week, Thursday, August 29, at 6:30 at Central Lutheran Church in Yakima.

From the Washington Immigrant Solidarity Network (WAISN) there are several calls to action this week: "The core of our Deportation Defense strategy is rapid response teams. These teams work together to verify ICE activity so that we can report back to the community where ICE is operating and whether or not they have detained people. Are you part of a team or know someone who is? Do you want to start a team? Fill out this form and let us know!"

Also from WAISN, this week there were reports of ICE action in Ephrata that caused widespread fear in the Grant County Courthouse. Please take action.

Gethsemane Lutheran Church and Sanctuary Downtown Seattle supporters gathered this week and continue to support Jose Robles and his family while he is in detention. Contact them to support that effort.

We will continue to add resources you can use in your efforts at our NEW ADVOCACY TOOLKIT page, scroll down to immigration resources. Thank you for all you're doing!
---
Responding to White Nationalism in Our State
This week the FAN Governing Board and staff met in retreat to deepen our organizational commitment to racial equity. We are grateful to Prince of Peace Lutheran Church in SeaTac for hosting us, and Cultures Connecting for facilitation.
As FAN seeks to respond to the urgent needs of our time, we heard the call of our colleagues in Spokane, Faith Leaders and Leaders of Conscience of Eastern Washington and North Idaho, in asking for an end to the white nationalism wielded by WA State Rep. Matt Shea. We joined them and the Spokane NAACP, the Seattle Police Guild, the Spokane Mayor and City Council members in calling for Shea to step down. You can read the full statement on our website.
---
As the Public Charge rule change that threatens immigrant families is challenged in court before it takes effect in October, we see other punitive rule changes and executive orders on the horizon. One of these is a proposed change to the Supplemental Nutrition Assistance Program (SNAP) - three million people could lose their SNAP benefits through restrictions on eligibility for those earning over 130% of the federal poverty level, which is currently $25,000 per year for a family of four, and by preventing states from using broad-based categorical eligibility to automatically enroll residents who receive other benefits.

Please take action if you haven't already by September 30 to ensure more people aren't threatened by hunger and food insecurity. As always, you can submit a unique comment to regulations.gov which the government is legally required to read before making its final decision. The Food & Research Action Center (FRAC) also has a link to submit a comment through their portal with suggested language you can modify.
---
11th Legislative District Town Hall August 23, 6-8 PM Abu Bakr Islamic Center, 14101 Tukwila International Blvd, Tukwila

Cultures United Festival August 24 South End Recreational Area, 6002 S Adams St, Tacoma

Dance for Humanity! August 24, 7-11 PM Veterans of Foreign Wars Hall, 1836 72nd Ave SE, Mercer Island

Day of Healing | Nationwide Bell Ringing Ceremony August 25, 3-3:30 PM The National Park Service encourages communities to remember the 400 year anniversary of African American enslavement and to honor their struggle for justice by ringing bells across the nation.

Final Public Hearing on Tacoma Liquefied Natural Gas (LNG) August 27, 2-10 PM Rialto Theater, 310 S 9th St, Tacoma

Free the People from Corporate Rule National Day of Action August 28, 12-1:30 PM Henry M Jackson Federal Building, 915 2nd Ave, Seattle

ICE Raid Verifier Training August 29, 6:30-8:30 PM Central Lutheran Church, 1604 W Yakima Ave, Yakima

Sensitive Location Webinar September 5, 12-2 PM RSVP for webinar link.

Voting: How Do We Decide? September 5, 7-8:30 PM Keystone Congregational Church, 5019 Keystone Place N, Seattle

Seattle First Baptist 150th Anniversary Homecoming Celebration September 8, 11 AM Seattle First Baptist Church, 1111 Harvard Ave, Seattle
---
Find other events and opportunities on our

web calendar

.
Please send your events for posting to

fan@fanwa.org

. We especially welcome your events outside the Puget Sound area!
Help FAN the Flames for justice year-round; support FAN with a donation!