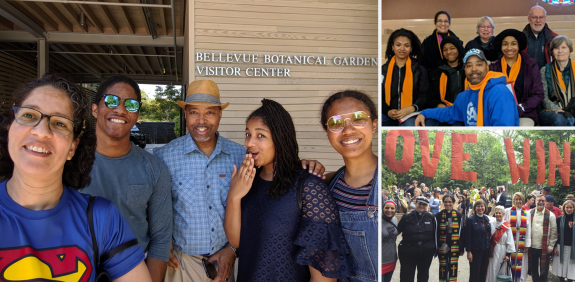 FAN Dinner keynote speaker Rev. Priscilla Paris-Austin, family, and colleagues.
---
Announcing Our Dinner Speaker
We are delighted to announce that Rev. Priscilla Paris-Austin will be the keynote speaker at our Annual Dinner on Sunday, November 10 in Renton, with a livestream to Spokane.

Rev. Priscilla is pastor of Immanuel Lutheran Church (ELCA) in the South Lake Union neighborhood of Seattle, a congregation that is Reconciling in Christ, Open and Affirming, aspiring to be anti-racist, because they know it is a journey not a destination, while living into an identity as a Sanctuary for all. Her advocacy work began over 30+ years ago working with and advocating for youth. Over 9 years of ordained ministry, she has advocated, served, preached and taught in a variety of urban contexts. She is presently a member of the Strategic Team for Authentic Diversity (STAD) for the NW WA Synod, the Curriculum Team for the ELCA Youth Gathering, and the planning team for the ELCA Youth Ministry Network Discipling Cohorts Initiative. As a mom of three amazing humans, she finds fuel for her spiritual imperative as an advocate in her congregations, the parent support committees of Diversity, Affinity space & the Arts for her children's school, and the God-gifted relationship with her spouse of 20+ years.

With our theme of Raising Our Voices, the FAN dinner planning committee unanimously chose Pastor Priscilla because of the work she has been doing locally and nationally to address racial equity and white supremacy in religious institutions and society at large. We know all our communities are being called to this work in new ways through education, action, and policy change like reparations. We are mindful of the 400th anniversary of slavery and African American history, as well as the crisis and suffering at the U.S. border. We want to lift up both prophetic and pastoral voices as we celebrate all that FAN as a movement has been able to accomplish in 2019, and gather momentum for all we'll need to do in 2020. We know Rev. Priscilla will raise her voice powerfully to these issues!

Don't miss it—seats are filling up! Register today before early-bird prices increase October 20. We are thankful for our growing list of sponsors - check them out on our Annual Dinner page. You still have time to help meet Rick Steves' business sponsorship match!
---
Food Week of Action is Here!
With the Presbyterian Hunger Program (PCUSA), we co-sponsor Food Week of Action October 13-20 with more than 60 organizations worldwide. We are highlighting work already being done or needing to be done by faith communities in our state, to work together against hunger and poverty. This year we include two of their themes—food sovereignty and climate justice—and are pleased that the Jewish celebration of Sukkot also coincides with Food Week. We align with Presbyterian Hunger's vision: a world where everyone has enough affordable, healthy and culturally appropriate food where no one is hungry, and where all who work in the food chain are fairly compensated, respected and celebrated!
Please download and

share our flyer

with your community! You'll find suggestions and resources for taking one or more steps in your community—starting in Food Week but carrying through the year. This is not just a one-week commitment; FAN shares in this vision year-round in our education and advocacy. Please consider promoting the flyer this week as a printed insert in your bulletin or newsletter, or in online news. Share it with your faith leader to consider for an upcoming sermon. Make it available online at your community website. Ask your social justice or education committee to incorporate some aspect of it in your annual plan. Think creatively and follow FAN social media throughout the week. Let us know how it goes or what other kinds of resources you would like, or ones you would share with others. Special thanks to Shannon Beck for her collaboration on this!
---
Pro-Future Faith: The Prodigal Species Comes Home Various dates and locations, October-November

7th Annual Asian/Pacific Islander Candidate Forum October 9, 4:30-7:30 PM International District/Chinatown Community Center, 719 8th Ave S, Seattle

Vancouver Candidate Forum October 9, 5:30-7:30 PM Vancouver Community Library, 901 C Street, Vancouver

Seattle City Council District 3 and King County Council District 2 Candidate Forum October 9, 6:30-8:30 PM Immaculate Conception Church, 820 18th Ave, Seattle

Candidates Forum on Housing & Homelessness October 10, 6-8 PM Salem Lutheran Church, 1428 W Broadway, Spokane

Washington People of Color Legislative Summit October 12, 9:30 AM - 4 PM Yakima Valley College, W Nob Hill & S 16th Ave, Yakima

Pullman Cluster Gathering October 12, 12-2 PM Trinity Lutheran Church, 1300 NE Lybecker Rd, Pullman (Rep. Schmick, 9th District, will join the meeting.)

Prayerful Witness: Walking in Solidarity with Immigrants October 12, 1-3 PM Westminster United Church of Christ, 411 S Washington St., Spokane

United We Stand for Gun Safety October 13, 2-4 PM Temple de Hirsch Sinai, 1511 E Pike St, Seattle

Asylum-Seeking Families at the Border October 13, 7-8 PM Temple Beth Or, 3215 Lombard Ave, Everett

Indigenous Peoples Day October 14, 4-6 PM Old Liberty Theater, 115 N Main Ave, Ridgefield

Kirkland City Council Candidate Forum October 14, 7-8:30 PM Holy Spirit Lutheran Church, 10021 NE 124th St, Kirkland

Seattle City Council District 1 Candidate Forum October 14, 7-9 PM Our Lady of Guadalupe Catholic Church, 7000 35th Ave SW, Seattle

Film: Knock Down the House October 15, 7-9 PM El Centro Centilia, 1660 Roberto Maestas Festival St, Seattle

Battle Ground Candidate Forum October 16, 5:30-7:30 PM Dollars Corner Fire Station, 21609 NE 72nd Ave, Battle Ground

Kent City Council Candidate Forum October 16, 6-8 PM Kent Commons Community Center, 525 4th Ave N, Kent

Seattle Candidate Forum on Police Accountability October 16, 6:30-8:30 PM Centilia Cultural Center, 1660 Roberto Maestas Festival St, Seattle

Dar He: The Story of Emmett Till October 17, 7:30-9:30 PM Myrtle Woldson Performing Arts Center, 211 E Desmet Ave, Spokane

Snohomish County Sheriff Candidate Forum: A Conversation on Police Accountability October 18, 6:30 PM Snohomish County Administration (East)/Robert J. Drewel Building, 3000 Rockefeller Ave, Everett

Kitsap Co/Olympic Peninsula Cluster Gathering October 19, 12-2 PM Olympic Unitarian Universalist Fellowship, 1033 N Barr Rd, Port Angeles
---
Find other events and opportunities on our

web calendar

.
Please send your events for posting to

fan@fanwa.org

. We especially welcome your events outside the Puget Sound area!
Help FAN the Flames for justice year-round; support FAN with a donation!