We are still grateful for our successful Annual Dinner on November 10 in both Renton and Spokane! View a recording of the event on

YouTube

, and see pictures on

Facebook

.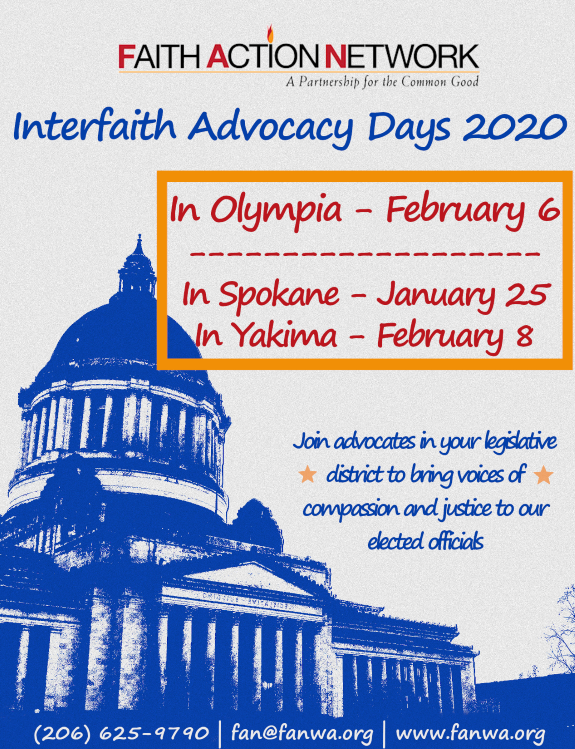 Save the Date for an Interfaith Advocacy Day near you! Registration links coming soon.
---
Protecting Immigrants at our Doors
As you may have heard, two reports of immigration enforcement-related activities were reported at the end of November by programs serving people experiencing homelessness. A social worker at the family shelter hosted by Redmond United Methodist Church reported a suspicious woman who posed as someone seeking shelter, proceeded to ask detailed questions about the space, and attempted to interview other families about a family she was seeking. She was seen hours later talking with someone in a Customs and Border Patrol vehicle. This woman then appeared at the New Bethlehem Day Center for homeless families the next day. For more information, see the press statement issued by Washington Immigrant Solidarity Network (WAISN), Redmond UMC, Church Council of Greater Seattle, Muslim Association of Puget Sound - American Muslim Empowerment Network (MAPS-AMEN), and Centro Cultural Mexicano.

In response to these frightening tactics, we wanted to share with you some resources suggested by WAISN to keep your communities safe:
Share the sensitive location protocol from

FOOD LIFELINE

and

El Centro De La Raza

. View the webinar on

Sensitive Locations

sponsored by El Centro de la Raza, Anti-Defamation League, and FAN.

Train your team in Deportation Defense (

waisn.org/deportation-defense

) and post a WAISN Workplace Audit & Raids Protocol at your site:

English

&

Spanish

Remind our broader immigrant and refugee communities that #WeHaveRights and to create their Deportation Defense plan and team by downloading on their mobile phones Notifica (

https://notifica.us/

).

If you or your family are directly contacted by any immigration enforcement agencies and/or are directly impacted in any other way, call the WAISN Hotline (1–844–724–3737) for assistance.

If you or your organization, facility, institution and/or group witness any immigration activity by ICE or CBP, report it as soon as possible to the WAISN Hotline (1–844–724–3737). Please exercise your rights to take pictures and/or video recordings, and we highly recommend NOT to post on social media or other platforms until the reports have been verified by WAISN through our rapid response teams across the state.

If any community member witnessed either of the two incidents at Redmond UMC or the Day Center in Kirkland, and/or has any pictures, video recordings, or further information, please reach out as soon as possible to

info@waisn.org

.
For more resources, including Know Your Rights flyers, see the FAN Advocacy Toolkit.
---
Take Action: Climate Change
Climate change is an ever-pressing issue for today and is a top concern for FAN's network. This week, we encourage you to take action on one of these three opportunities to heal our physical world:
Advocate: The Puget Sound Clean Air Agency is working on a Clean Fuel Standard to address the issue of pollution caused by transportation, which is the largest source of climate pollution in Washington state. This proposal would reduce the carbon intensity of transportation fuels by 25% by 2030 by setting a limit on greenhouse gas emissions. You can take action by

signing the Washington Environmental Council's letter

to Puget Sound Clean Air Agency, voicing your support for a Clean Fuel Standard!
Educate: Learn about the impact of climate change on your local area (or anywhere in the world!) with this

interactive map

that projects the rise of sea levels across decades, and share it with your community. This website allows you to change different scenarios to consider how our action or inaction towards this crisis may affect our future. A detailed explanation of these results can be found in this article from

climatecentral.org

.

Strike:

Join the ongoing Friday Climate Strikes this Friday, December 6, which is focused on the banks and financial institutions that fund coal, oil, and gas industries. Many of these financial institutions also fund the for-profit detention system which inflicts suffering on immigrants, some of whom were forced to migrate due to climate change.

Click here

to find a climate strike near you.
---
Events & Opportunities
Crossroads Trade: Fair Trade Pop-up Store

December 5-22 or by appointment 3244 35th Ave SW, Seattle



Racial Disproportionality in TANF and Human Service Programs

December 6, 10:30 AM - 12 PM Cafe on Fourth, 124 4th Ave S, Kent



20th Anniversary of the WTO Protests

December 7, 10 AM - 9 PM Rally at Occidental Park (117 S Washington St, Seattle), then workshops at Town Hall Seattle (1119 8th Ave, Seattle)



César Cuauhtémoc García Hernández: Migrating to Prison

December 9, 7:30-9 PM $5 The Forum, 1119 8th Ave, Seattle



Film - Ancestral Waters: A Fight for Treaty Rights, Water, and Way of Life

December 10, 7-9 PM El Centro Centilia, 1660 Roberto Maestas Festival St, Seattle



Duwamish Native Gift Fair & Art Market

December 13-15, 10 AM - 5 PM Duwamish Longhouse & Cultural Center, 4705 W Marginal Way SW, Seattle



Associated Ministries Holiday Open House

December 13, 11 AM - 1 PM Associated Ministries of Tacoma Pierce County, 901 S 13th St, Tacoma



Census Forum and Panel

December 16, 6-7:30 PM Eritrean Association of Greater Seattle, 1528 Valentine Pl S, Seattle



Memorial Service for the Homeless

December 20, 5:45-7:45 PM St. Paul Lutheran Church, 1309 Franklin St, Vancouver
---
Find other events and opportunities on our

web calendar

.
Please send your events for posting to

fan@fanwa.org

. We especially welcome your events outside the Puget Sound area!
Help FAN the Flames for justice year-round; support FAN with a donation!