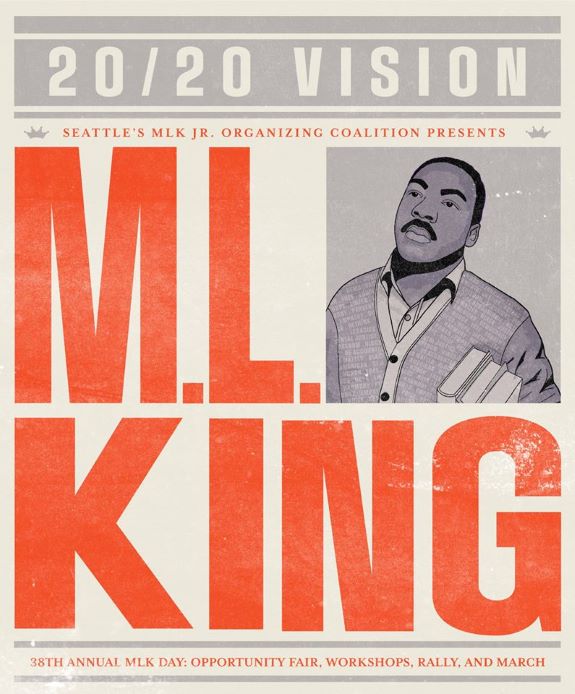 There are so many ways to pay tribute to Dr. King across the state this weekend. See the Events & Opportunities section below for a partial list. Thank you Seattle MLK, Jr. Organizing Coalition for this graphic!
---
Week one of the legislative session included over 100 committee hearings, the official seating of new members, the Governor's annual State of the State address, and the collection of co-sponsors before proposals become official bills. Both the House and the Senate passed bills this week, a highlight of which was a success for FAN's Legislative Agenda - the Agriculture Carbon Sequestration bill (SB 5947) which passed the Senate at 32 yeas, 17 nays!

FAN was part of four important policy partner meetings to help identify and call for equitable and just policies in our state: the WA Anti-Poverty Advocates Group, the Open Courts to All stakeholders, a Washington Immigrant Solidarity Network (WAISN) policy call facilitated by Paul Benz, and the Racial Equity Team. A Driving While License Suspended (DWLS-3) meeting was facilitated by the two prime sponsors, Rep. Goodman and Sen. Salomon, bringing together criminal and economic justice advocates and debt collectors.

Be sure to follow our Bill Tracker for updates on bills FAN is following this session.
---
Looking Ahead to Week Two
We look forward to movement on some key FAN bills next week. Tune into any of these meetings on TVW.
In the House:
HB 2441 (Rep. Entenman) Creating more racial equity in our state's Temporary Assistance for Needy Families (TANF) program - Public hearing on Wednesday 1/22 at 1:30 PM in the Human Services & Early Learning Committee.
HB 2240 (Rep. Valdez) Regulating high capacity magazines, and HB 2241 (Rep. Peterson) Banning assault weapons - Public hearing with other gun violence-related bills on Tuesday 1/21 at 10 AM in the Civil Rights & Judiciary Committee.
In the Senate:
---
Take Action For Justice!
This week, we encourage you to advocate for the Open Courts to All Act (HB 2567 Rep. Thai). This bill is a follow-up to the Keep Washington Working bill that was passed last session, and it prohibits communications with and arrests by ICE/Customs and Border Patrol agents within and outside county courthouses. This bill will reduce detentions and deportations, providing protection and reduce fear for our undocumented neighbors, who like all of us utilize the courthouse for certain transactions. Please send a message to your Representatives to support this bill, especially if they sit on the Civil Rights & Judiciary Committee. Click here to see House Committees and members. This bill will be up for public hearing on Wednesday 1/22 at 8 AM.
For any other bills on our agenda, contact your legislators using the email formula firstname.lastname@leg.wa.gov, or call the Legislative Hotline: 1-800-562-6000 between 8 AM and 7 PM, Monday through Friday. To find out who your legislators are, click here. You can also check out the Seattle/King County League of Women Voters' 2020 They Represent You online directory of Washington legislators.
---
Come to Interfaith Advocacy Day!
Each Winter, FAN hosts three Interfaith Advocacy Day opportunities to bring voices of compassion and justice to our elected officials. In Olympia, we gather at The United Churches of Olympia for workshops, strategy meetings in legislative districts, and meetings with our legislators. IFAD was unfortunately snowed out last year, so we are hoping to be a bold presence in Olympia in 2020! To register for IFAD in Olympia, RSVP here. Registering early is important this year because there are new regulations limiting attendance to only 250 participants at the church, so the sooner you sign up the better! Please pay ahead of time, either when you register online or by phone or mail, so that we can guarantee you a spot. We are also seeking volunteers for registration and caucus leaders to convene your legislative district before meeting with your elected officials. Email FAN if you can help in either of these capacities.

FAN also co-hosts legislative conferences in Spokane and Yakima, in collaboration with our local partners. The Eastern Washington Legislative Conference in Spokane will be held January 25 from 8:30 AM - 3:30 PM at Spokane Valley United Methodist Church (115 N. Raymond St, Spokane Valley). Download the flyer here and RSVP to event@thefigtree.org. Yakima Advocacy Day will be February 8 from 9 AM - 2 PM at St. Michael's Episcopal Mission (5 S Naches Ave, Yakima) A flyer and the link to RSVP is coming soon - check our IFAD page for updates.
---
We are pleased to announce that we have received funding from the Washington Census Equity Fund which will help us promote a robust and accurate count in the 2020 Census. Census data is used to determine how more than $800 billion in federal funds are distributed back to local communities every year for services and infrastructure, including schools, hospitals, fire departments and roads. Washington has more than 1.6 million residents from historically "hard-to-count" population groups, including communities of color, Native Americans both on and off tribal lands, immigrants and limited English speakers, young children and rural residents of all backgrounds. With this grant we will be able to support opportunities for participation in the census which will help ensure that all communities receive their fair share of critical federal and state funding. We are thrilled to be a recipient of this grant and a participant in this important work. See who the other grantees are here: http://bit.ly/2QQbJml
To further this effort, we are hiring a part-time Census Coordinator to assist in outreach efforts for FAN. Please download the job description and share with your communities. We will be hiring by January 31 and see this as a statewide effort. If you believe everyone counts in Census 2020 and want to help faith communities fill an important role, send your resume and cover letter to apply@fanwa.org.
---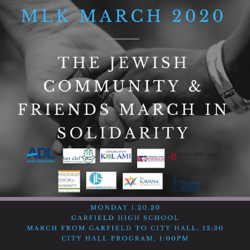 Puget Sound area advocates: You are invited to join FAN and our Jewish partners at the

MLK Day March

on January 20. Workshops begin at Garfield High School (400 23rd Ave) at 8:30 AM, and we will meet together at 12:10 PM under the flag poles in front of Garfield at the bottom of the stairs of the main entrance. Please

RSVP here

if you plan to join. Look for the FAN banner.

You can also join FAN in honoring MLK Day by marching with our

Muslim friends at MAPS-AMEN

or elsewhere across the state, attending Muslim Lobby Day in Olympia, and standing against mass incarceration on the steps of the capitol. See more on those opportunities below.
Civil Rights Shabbat January 17, 5-7 PM Temple De Hirsch Sinai, 1511 E Pike St, Seattle AND January 19, 11 AM - 12 PM First AME Church, 1522 14th Ave, Seattle

Womxn's Marches January 18 Vancouver, Yakima, Spokane Seattle has moved their event to International Women's Day on March 8.

"Welcoming the Stranger, Immigrant Justice and Experience" at Limmud Seattle Workshops and activities start January 18 at 6:30 PM through January 19 at 6:30 PM Bellevue College, 3000 Landerholm Circle SE, Bellevue

Martin Luther King Jr. Day - Yakima Celebrations Commemoration Service January 19 St. Michael's Episcopal Church, 5 S Naches Ave, Yakima AND Peace March January 20, 11:45 AM Fifth Avenue and MLK Jr. Blvd

Martin Luther King Jr. Day - Celebrations in Spokane Commemorative Celebration January 19, 4-6 PM Holy Temple C.O.G.I.C., 806 W Indiana Ave AND Unity Rally & March January 20, 10 AM Downtown Spokane

2020 Seattle MLK Day January 20, 8:30 AM - 3:30 PM Garfield High School, 400 23rd Ave, Seattle

In Olympia, Muslim Day at the Capitol and Statewide Poverty Action Network Lobby Day

Day of Action in Olympia to End Mass Incarceration January 20, 5-8 PM Washington State Capitol Museum, 211 W 21st Ave, Olympia

Democracy Lobby Day January 21, 9 AM - 3 PM Washington State Capitol, 416 Sid Snyder Ave SW, Olympia

Calling All Allies to Stand with the Duwamish Tribe! January 24, 9-10:30 AM King County Superior Court House, Room E1201, 516 3rd Ave, Seattle

Film Screening: From Seed to Seed January 24, 6:30-8:30 PM Prospect Congregational United Church of Christ, 1919 E Prospect St, Seattle

Film Screening: Don't Tell Anyone - No Le Digas a Nadie January 24, 7-9 PM St. Matthew's Lutheran Church, 1700 Edmonds Ave NE, Renton

Eastern Washington Legislative Conference January 25, 8:30 AM - 3:30 PM Spokane Valley United Methodist Church, Spokane Valley
---
Find other events and opportunities on our

web calendar

.
Please send your events for posting to

fan@fanwa.org

. We especially welcome your events outside the Puget Sound area!
Help FAN the Flames for justice year-round; support FAN with a donation!