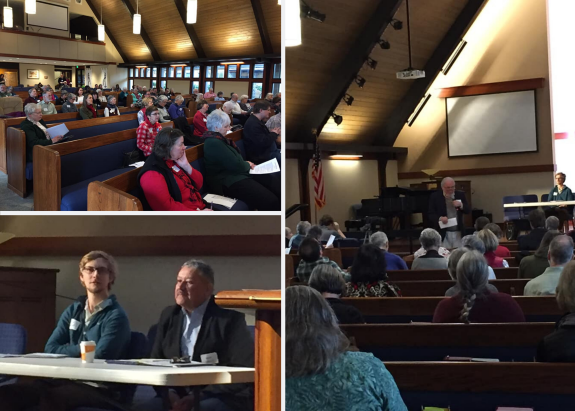 We had a great turnout of about 150 at the Eastern Washington Legislative Conference last weekend. We are grateful for our many partners who co-sponsored the event, and for Spokane Valley United Methodist Church who hosted!
---
Monday: Paul testified on a Vulnerable Adults bill (SB 6287 Pedersen) with our partners at the National Alliance on Mental Illness (NAMI) in the Senate Law & Justice Committee. This bill will prevent abuse of vulnerable adults by strengthening the state guardianship program and expanding the rights of those covered by the program.

Tuesday: Rep. Morgan, a member of the House Black Caucus, shared a powerful testimony as the prime sponsor of the Hair Discrimination bill (HB 2602), which FAN supports as an important racial equity and civil rights bill. There was also a public hearing on Sen. Darneille's bill on removing Robbery 2 convictions for those who are still serving time under the three strikes law (HB 6202), a key criminal justice reform bill FAN has worked on this session. Sen. Dhingra's bill to establish an expanded clemency and parole board was also heard (SB 6530). The Racial Equity Team gathered a large group of 35, including many young people of color. Their session watchlist has 47 bills centered on racial equity, which is not exhaustive of the bills this session which would have a racial justice impact.

Wednesday: The Private Detention bill (SB 6442 Saldaña) was heard in the Human Services, Reentry & Rehabilitation Committee. Close to two hundred organizations have endorsed this bill, and it is where Co-Director Paul has spent most of his time this session. Paul testified on the Identicard bill (SB 6426 Cleveland) in the Senate Transportation Committee, which will provide a systems approach to enable economic security for people experiencing homelessness by providing identification cards at no cost.

Thursday: HB 2576, the House companion bill to the Private Detention bill, was negotiated with stakeholders, caucus and committee staff, the committee chair and prime sponsor, and the Department of Corrections. The Housing Justice bill (SB 6490 Darneille) was heard in the Senate Human Services, Reentry & Rehabilitation Committee. This bill is similar to the Ban the Box bill passed a few sessions ago to ensure that those exiting prison have a fair chance at jobs, and now housing. The housing bill is expected to be a long-term fight with the powerful landlord associations, requiring many compromises - it was a very emotional and divided hearing.

Friday: The bill to Repeal the Death Penalty (SB 5339 Carlyle) passed the Senate! 28 yeas, 18 nays, 0 absent, 3 excused.
---
Looking Ahead to Week Four
Monday: Two important bills from FAN's legislative agenda will be heard in the House Public Safety Committee at 1:30 PM: the Private Detention Ban bill (HB 2576 Ortiz-Self) and the Clean Slate bill (HB 2793 Hansen) to vacate certain violations on one's record. The Food Policy Forum bill (SB 6091 Warnick) and the Healthy Soils Initiative bill (SB 6306 Liias) will also be heard in the Senate Ways & Means Committee.

Tuesday: The Individual Tax ID bill (SB 6557 Saldaña), an important expansion to the Working Families Tax Credit program, will be heard in the Senate Committee on Human Services, Reentry & Rehabilitation at 1:30 PM.

Wednesday: The Courts Open to All bill (HB 2567 Thai) is up for a vote in the House Civil Rights & Judiciary Committee at 8 AM.

Thursday: There will be a Capital Budget work session on affordable housing and homelessness at 1:30 PM.

Friday: The Sustainable Farms and Fields bill (SB 5947 McCoy) will be heard in the House Rural Development, Agriculture, & Natural Resources Committee at 10 AM, and the Nuclear War Preemptive Strike bill (SJM 8006) will be heard in the Senate State Government, Tribal Relations & Elections Committee at 12:30 PM.
---
Take Action For Justice!
Use your voice to reduce poverty! The Individual Tax Identification Number bill (SB 6557 Saldaña) will be heard on Tuesday, February 4 at 1:30 PM in the Senate Human Services, Reentry & Rehabilitation Committee. This bill would add ITIN filers to the Working Families Tax Credit Program. It is an important technical fix to ensure that all who pay taxes and have an ITIN, including our undocumented neighbors, will receive the Working Families Tax Credit benefit once that is funded.

Please use this link to send a message to your Senator to support this bill, especially if they sit on the Human Services, Reentry & Rehabilitation Committee. Click here to see Senate Committees and members. Please sign this message even if you signed the Working Families Tax Credit Take Action letter a few weeks ago.

There will also be a hearing on the Preventing Nuclear War bill (SJM 8006) in the Senate Committee on State Government, Tribal Relations & Elections at 12:30 PM on February 7. Let us know if you would like to testify at this hearing, and we will put you in touch with the Washington Against Nuclear Weapons Coalition.
For any other bills on our agenda, contact your legislators using the email formula firstname.lastname@leg.wa.gov, or call the Legislative Hotline: 1-800-562-6000 between 8 AM and 7 PM, Monday through Friday. To find out who your legislators are, click here. You can also check out the Seattle/King County League of Women Voters' 2020 They Represent You online directory of Washington legislators.
---
Come to Interfaith Advocacy Day!
Interfaith Advocacy Day in Olympia is happening next Thursday! We hope you'll join us on February 6 to bring voices of compassion and justice to our elected officials. We will gather at The United Churches of Olympia for workshops, strategy meetings in legislative districts, and meetings with our legislators. Signup now - there are still spaces left! Check out our carpool link if you are looking for a ride or can pick up other advocates along your route. We are also seeking volunteers for registration and caucus leaders to convene your legislative district before meeting with your elected officials. Email FAN if you can help in either of these capacities.

FAN also co-hosts legislative conferences in Spokane and Yakima, in collaboration with our local partners. The Eastern Washington Legislative Conference in Spokane had a great turnout of 150 guests last weekend - thank you to Spokane Valley United Methodist Church for hosting! Yakima Advocacy Day will be February 8 from 9 AM - 2 PM at St. Michael's Episcopal Mission (5 S Naches Ave, Yakima) Download the flyer here and RSVP here.
---
We are only 40 days out from the launch of Census 2020 on March 12, as postcards will begin to arrive inviting households to participate. Official Census Day is April 1. In the State of Washington, $16.7B in tax dollars for our communities are at stake, along with our democratic representation in Congress. We cannot afford to miss counting anyone in this census, especially traditionally undercounted communities of color, immigrants, tribes, rural areas, and young children. You can help in three ways right now:
Save the date for a Faith-based Census training on February 19 in Tukwila. Let us know if you'd like to attend by responding to the survey below.
Respond to our survey indicating ways you would like to help with the Census in your faith community and beyond. There ARE people in your faith community who may not be counted without our extra efforts.
Share our part-time

Census Coordinator

job description - we are accepting applications through February 9. Please

download the job description

and share with your communities. We see this as a statewide effort and are excited to join a powerful coalition for the Census.
---
Faith Over Fear: Ally Training February 1, 1-5 PM Trinity Lutheran Church, 6215 196th St SW, Lynnwood

Solidarity Day at Northwest Detention Center February 1, 1:30-3:30 PM Northwest Detention Center, 1623 E J St., Tacoma

Housing & Homelessness Advocacy Day 2020 February 3 Olympia State Capitol Building, 415 Sid Snyder Ave SW, Olympia

Hunger Action Day February 3, 8:30 AM - 4 PM The United Churches of Olympia, 110 11th Ave SE, Olympia

Global and Local Climate Solutions February 4, 7-9 PM Seattle location provided upon RSVP: https://kavana.wildapricot.org/event-3706693

Visiting Writer Series: Tommy Orange February 4, 7:30-9 PM Hemmingson Center, Gonzaga University, 702 E Desmet Ave, Spokane Pulitzer-nominated Native American author of There, There

WAISN Immigrant and Refugee Advocacy Day February 5, 8 AM - 3 PM Washington State Labor Council, 906 Columbia St SW, Olympia

Film Screening: Through a Lens Darkly February 5, 6-7:30 PM Downtown Spokane Library, 906 W Main Ave, Spokane

Homelessness Advocacy 101 Workshops with Nancy Amidei February 5 in Bellevue, and February 8 in Kent

Interfaith Advocacy Day February 6, 9 AM - 3 PM The United Churches of Olympia, 110 11th Ave SE, Olympia

Census 2020 Public Forum February 6, 5:30-7:30 PM Shadle Park High School, 4327 N Ash St, Spokane

Yakima Interfaith Advocacy Day February 8, 9 AM - 2 PM St. Michael's Episcopal Mission, 5 S Naches Ave, Yakima

Being Muslim in Spokane February 8, 11 AM - 12 PM Spokane Public Library East Side, 524 S Stone St, Spokane

Tax Amazon Action Conference February 9, 12-4 PM Washington Hall, 153 14th Ave, Seattle
---
Find other events and opportunities on our

web calendar

.
Please send your events for posting to

fan@fanwa.org

. We especially welcome your events outside the Puget Sound area!
Help FAN the Flames for justice year-round; support FAN with a donation!