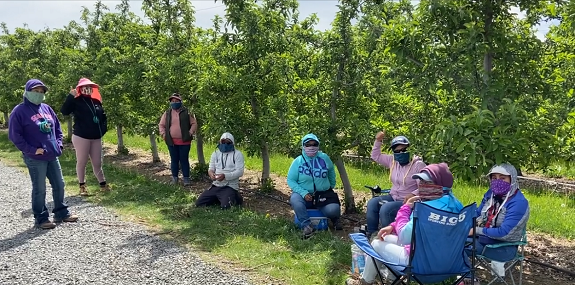 Our partners at Yakima Immigrant Response Network are hoping to collect over 5,000 face masks to give to farm workers in Yakima county. The health of those who care for our food, who are often immigrants, is vital to the survival of all. Show your support by making some masks - contact

YakimaResponseNetwork@gmail.com

if you can donate!
---
Protect Immigrants in Relief Packages
Faith Action Network has joined with the Washington Immigrant Solidarity Network (WAISN) and over 400 other organizations in a letter to call for a state relief fund for undocumented workers and their families who are experiencing great hardship during COVID-19. We urge you as individuals to send a letter and take action with us.

FAN celebrates faith communities' important work in providing sanctuary, accompaniment and other supports during these years as our neighbors have suffered through detentions and deportations. This pandemic is showing us even more clearly that our health and well-being depends on our neighbors; see this public health article on migrant health and food chain issues. We are only as safe and healthy as the most vulnerable members of our communities, and ensuring their well-being is how we ensure our own.

More than 250,000 undocumented immigrants call Washington home. While the coronavirus pandemic has impacted us all, undocumented immigrants are uniquely at risk and are overrepresented in industries that have been decimated by the pandemic, including restaurants, hospitality, landscaping and construction. Undocumented immigrants and their families were completely excluded from the $2 trillion relief package Congress passed last month and are not eligible for unemployment insurance, even though providing economic stability to all workers is essential to ending this public health crisis.
Please take action today to ensure our communities are taken care of. Contact your legislators and Governor Inslee for immediate action to provide emergency relief to undocumented families by:
Creating a Washington Worker Relief Fund that provides economic assistance to undocumented Washingtonians

Creating a permanent system that gives undocumented immigrants access to unemployment insurance
Email Governor Inslee
Email your legislators - One click to reach all three!
Together, we can make our voices heard. Together, we can make sure we are all safe. From frontline healthcare workers to grocery clerks to farmworkers--no one should be left out. We need protections for ALL Washingtonians, no matter where we were born, the color of our skin, or our immigration status. Tell your legislators to include undocumented immigrants in relief funds to ensure we all get the care we need.
---
Support SNAP in the CARES 4.0 Package
There is still time to advocate for the Supplemental Nutrition Assistance Program (SNAP) in the next CARES 4.0 package. Hunger and unemployment are rising drastically in Washington State in the wake of COVID-19, so we must ensure that life-sustaining programs like SNAP are strengthened during this time. Please join us by taking action today! Email or call your Congress members using your own words inspired by this template:

As your constituent and a member of Faith Action Network, I urge you to ensure the SNAP program is protected and strengthened to address the food insecurity and hunger people in our state are experiencing during COVID-19. We ask you to include the following provisions in the next relief package:
Increase the maximum SNAP benefit by 15%

Increase the minimum SNAP benefit from $16 to $30

Suspend the Administration's rule changes that would terminate or cut benefits

Temporarily suspend the SNAP rule requiring eligible students to work 20 hours per week to receive benefits.
Thank you for your public service.

Click each link to send a message to your two Senate and one House members:
Don't know your Congressional District? Find your Representative at house.gov/representatives/find-your-representative.

See these resources for more background information:
---
Be Counted: A Census Sermon
We are grateful for our FAN Census Equity Team who work statewide to ensure that each of us counts! This week, we are highlighting Zahra Roach who is a Pasco City Councilmember and has done strong census outreach in the Tri-Cities. Zahra gave a sermon at Community Unitarian Universalist Congregation before the stay-at-home orders were issued, and she has shared her sermon on our blog, entitled "Be Counted." We hope her words will encourage you to take your census today and to check on those in your circle to make sure they are counted as well!

As a reminder, you can complete your Census in one of three ways:
Online:

2020census.gov

By phone: Call 844-330-2020 for English. You can also complete the census by phone in 13 other languages or TDD:

2020census.gov/en/ways-to-respond/responding-by-phone.html

By mail. Some people will get a census form in the mail to complete by hand. Later, if you haven't responded online or by phone, you will also receive a form in the mail.
---
FAN Spring Summits!
FAN annual summits are taking place online in May and June. Please save the dates, and register on our website today! Download the flyer here.

Southwest WA – May 17 at 3 PM
Spokane area – May 31 at 3 PM
Puget Sound area – June 7 at 3 PM
Yakima & Tri-Cities – June 14 at 3 PM

Did you catch our list of legislative successes we celebrated in the 2020 session? See the full list on our website. Thank you for your tireless efforts for justice this year, and stay tuned for opportunities to advocate year-round as we seek a more equitable and sustainable state for all.
---
During this statewide stay-at-home order, virtual events and opportunities are listed on our

web calendar

and

Facebook page

. Be sure to check event links ahead of time for updates.

We always post the E-News to our website each week as well at

fanwa.org/news/

.



Stay connected with our emails!

Please be sure to list

fan@fanwa.org

as a safe sender by adding us to your contacts.
Help FAN the Flames for justice year-round; support FAN with a donation!